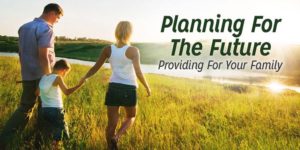 If you've followed Dave Ramsey for any amount of time, you know he's not too big on cash value life insurance. In fact, he hates cash value and always recommends Term Insurance. Below are the 5 Term Life Insurance Mistakes to Avoid
1. Buying Too Little to Replace Income
Always buy ten to twelve times your income in life insurance coverage. That small policy you're getting through work, which might be one year's worth of coverage, isn't near enough.
If you're the primary source of income in your household, then your spouse and kids need to be taken care of for a long time if something happens to you. Making sure you have plenty of coverage will allow them to live comfortably and maintain their lifestyle until they figure out the next step in their lives.
By investing the insurance proceeds, you can earn a rate of return that replaces your lost earnings and provide security. Just as important, don't forget to get coverage for both spouses. Even stay-at-home parents need to have term life insurance.
2. Waiting Too Long to Get Coverage
If you wait too long to buy life insurance, you leave your family vulnerable if something unexpected happens to you. Term life insurance premiums generally increase as you get older, so buying sooner rather than later can save you money.
The older we get, the more at risk we are for health issues. That will increase the cost of your life insurance, or even make you ineligible to purchase it. Many people think they should wait until they are debt free to buy life insurance, but that's when your family is the most vulnerable. 

3. Buying for Too Short of a Term 
You might be trying to save a few dollars by choosing shorter term coverage. But what happens if you buy a ten-year policy and you have medical issues ten years from now that raise the cost of your next plan—or worse, make it so you can't get coverage at all? That will cost you even more in the long run.
So how long should you buy for? Dave Ramsey's general rule of thumb is to buy based on when your kids will be heading off to college and living on their own. In other words, if you plan on having children in the future, then a 30-year plan might make sense for you. If you have a newborn in the house and don't expect any more children, then a 20-year plan would be a better option.
4. Buying Too Many Riders
Some people fall for policy riders that increase their premium and pay extra commission to their agents, but offer very little value.  Some of the more popular riders might include income replacement, waiver of premium, critical illness and accidental death. You'll buy because they have an emotional value attached to them, but they have very little actual benefit.
5. Failing to Occasionally Review Your Life Insurance Policy
It's always a smart idea to go over your term life insurance policy to make sure you have exactly what you need for your current situation. Your coverage might have been fine 10 years ago, but that doesn't mean it works for you now.
Make sure you have enough insurance to take care of your changing needs. Maybe you had a child, bought a new home, got a raise at work, quit smoking, or had other health improvements. These life-changing events can either help you save money or require additional coverage.
The Bottom Line: Life insurance is a major part of a healthy financial plan. Contact Kevin today and get your Free Consultation and Free Quote to review your options. 530.320.3617 or [email protected].
About the Author: Kevin Leipsic – President of The Contractors Resource Center and The Chamber Resource Group.
As an Insurance Advisor serving families and business owners in California for over 25 years, Kevin loves to help people navigate their options for Mortgage Insurance and Life Insurance. Kevin also serves as the Insurance Advisor for both Placer and Nevada County Business and Economic Development departments and has also served on the Insurance Committee at the California Building Industry Association as a resource for business owners evaluating and shopping for General Liability and Workers Compensation Insurance. Kevin and his family live in Lake of the Pines near Auburn, California. You can contact Kevin at: 530.320.3617 or via email at: [email protected] 
————————————————————————————————————-